The Reell TI-320 One-way Torque Insert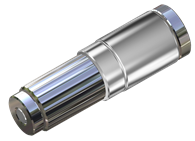 This week Reell will be formally launching the TI-320 One-way Torque Insert. With this launch, Reell will have One-way torque capability on all the TI-300 Series models, widening the range of applications where One-way torque can be used.
The TI-320 is available with 0.50, 0.75, 1.00, 1.25, 1.50 N-m of torque, and can be configured with high torque in either the forward or reverse direction.
Contact us with any questions!