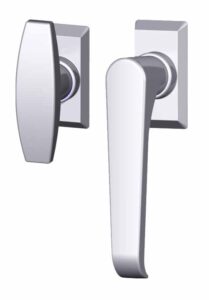 DIRAK'S STAINLESS STEEL T- & L-HANDLES
DIRAK, Inc. provides multi-point locks that can be customized to lock and integrate with their  quarter-turns, swinghandles, T- handles, and L- handles.  The T- and L-handles are ideal for use with rod latch product system 7-030.
T-Handle and L-Handle options work with the Multi-Point Compression systems.  Dirak offers the best that Multi-Point Locking has to offer but with additional features that eliminate vibration and noise, seal out dust and water, and allow you to choose from multiple actuators and a variety of handle options all while bolstering your doors and panels.
T-Handle and L-Handles:
• Stainless steel cylinder barrel and screws
• for use with rod latch product system 7-030
• Key cylinders are supplied with two keys
• Mounting screws are included
• Door-thickness 1.5 – 2.5mm
• Screw-on installation
Contact your Sales Engineer at Blair Engineering Southeast for more information.