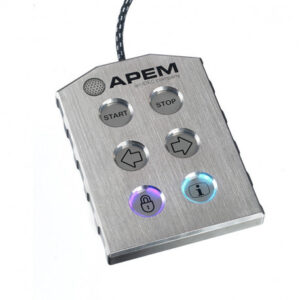 APEM'S METAL ENHANCED CAPACITIV SWITCH PANELS
APEM'S new Capacitiv Switch allows more customization based on the switch location and illumination needed.
Harsh weather conditions do not disrupt operation with these new Capacitiv switches with the endless possibilities provided by electronics for the control and illumination scenarios.
The number and the position of large 18 mm round keys are totally customizable, just like illumination and marking. The customer can create a tailor-made keypad for his application.
APPLICATIONS
The robust and sealed construction of this control panel ensures reliable use even in harsh environments.
Outdoor security
Industrial process
Special vehicles
MAIN FEATURES
Metal front frame (stainless steel 316L)
18 mm round keys: number/position, Illumination & marking customizable
Robust & Sealed
Multi keys & Long press possible
Long life: "metal capacitive"
CUSTOMIZATION POSSIBILITIES
Dimensions
Layout /marking
Illuminated halo and function light (color, blinking, … )
Back material /cover
Mechanical fixations
Contact: normally close or long press detection
Outputs: Communication protocol, cable and connector
Check out the wide variety of components from APEM. Our experienced Sales Engineers  at Blair Engineering Southeast can enhance your design with illuminated key pad, switches and pushbuttons. Contact Blair Engineering Southeast today for more information.