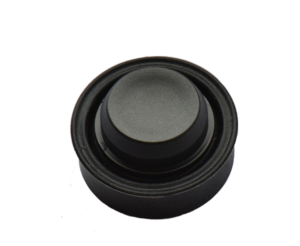 NEW SEALED ROUND CAP FOR CONTROLMEC™ FROM APEM
APEM has introduced a rugged sealed aesthetic round cap button: an elegant 16.00 mm cap with a nice feel for applications where the environment is demanding.
Building on the experience gained with the HR series, this new version meets the needs for greater precision and comfort when driving special vehicles in difficult environments (dust, humidity, cold, etc.).
The new Sealed Round cap:
Can be used with Controlmec solution
Can handle harsh environment
Aesthetic design
Illumination possibility
Designing a complete PCB solution can be a challenge due to the different below panel height of different caps. This is especially relevant for sealed caps where the below panel height is fixed.
"MEC has had the sealed navigational solution Controlmec in our range for many years now, but it was missing single caps that could be used to create a complete panel solution. Therefore, the 10D cap was designed with the Controlmec in mind, not just regarding the below the panel height but also the look and feel," explains APEM's MEC product manager Morten Højdevang. The new series come in three different shapes: round, square and triangle, and can be combined into endless versions to differentiate your front panel, providing the flexibility to make a one-of-a-kind and intuitive panel design. The new caps are designed with a slightly convex top surface and matte finish to give an appealing look and excellent feel for the end user.
The new 10D cap and 10DWY sealing combination is sealed to IP67, has over 1 million cycles and 4 standard color options, including frosted white for illumination with hard paint laser etched legends. The new option is particularly relevant for test & measurement equipment, agriculture & forest machinery, medical and military communication equipment.
The cap can also be used without the 10DWY sealing in combination with the non-sealed Controlmec or as a stand-alone product.
Contact our Blair Engineering Southeast Sales Engineers today for more information.