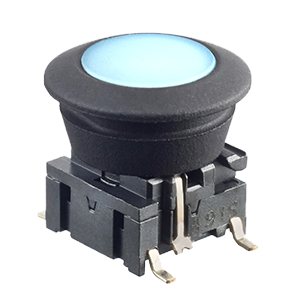 APEM'S NEW ACQ SEALED CAP SWITCH
THE EASIEST PANEL SEALED CAP SOLUTION FOR PCB SWITCHES
APEM's new flexible height front panel sealed cap switch is designed for demanding environments. No tools are needed for this compact switch.
With its compact design, the AQW sealed cap switch is able to be integrated into control panels where space is limited all while retaining the features and functionalities associated with largest handgrips. It provides a comfortable grip so the various controls are more accessible.
Great in these applications:
Special vehicles
Agriculture
Material Handling
Off-road vehicles
Built into joystick faceplates
Features
Panel sealed to IP67
Functional with specially designed 10AQS cap or a 1SS cap for variable height
Snap-in mounting for the AQW sealing
500K cycles
Compact design
Illumination is an option
This new PCB switch solution is an easy-to-install robust sealed solution for harsh environments. Installation requires no tooling, simply press the sealing into the hole in the front panel. The front panel mounting makes changing out the switches easier, also the height between the PCB and the sealing is adjustable making the solution flexible. The sealing can even be illuminated to offer the user guidance or assist the operator in dark environments. The compact design allows the new solution to be used in compact units like faceplates of joysticks or outside equipment.
Read more about APEM's Sealed Cap Switch. Our experienced Sales Engineers at Blair Engineering Southeast can enhance your design with APEM's joysticks, push buttons, indicators, switches and so much more.
Contact Blair Engineering Southeast today for more information.