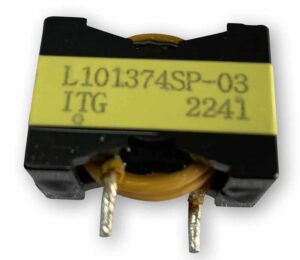 RESONANT POWER INDUCTORS FROM ITG
Resonant power inductors handle up to 3 kW
ITG Electronics has introduced a new series of resonant inductors. Suitable for DC/DC power conversions of up to 3 kilowatts, the company's L101374SP Series of Resonant Inductors comprises 13 distinct high-performance products. They are ideal for power conversion application in data centers, electric vehicles and industrial settings.
FEATURES
Ferrite-Based Resonant Inductors.
Inductance range:15.0uH to 56.0uH,Custom values are welcomed.
High current output chokes, up to 71.0 Amp with approx. 30% roll off.
Dielectric strength:1500Vrms,winding to core.
Operating Temperature Range -55 ℃ to +130 ℃, RoHs & HF compliance
GENERAL SPECIFICATIONS
33.50 x 18.50 mm, 33.50 x 21.00 mm and 33.50 x 30.50 mm footprint with 28.00 mm Max. height
Check out the wide variety of components from ITG. Our experienced Sales Engineers at Blair Engineering Southeast can enhance your design with magnetics and EMI filters.
Contact Blair Engineering Southeast today for more information.