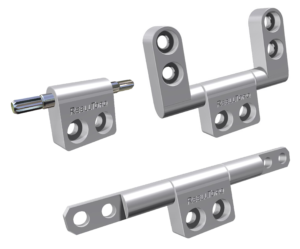 REELL'S POSITION HINGE WITH DUAL ENDED MOUNTING ATTACHMENT
Another new component from Reell. The RT100 Position Hinge with Dual Ended Mount Attachment.
Reell Precision Manufacturing, a world leader in small package motion control, is proud to introduce its latest positioning innovation, the RT100 position hinge with dual-ended mounting attachment.  This dual ended attachment enables a single hinge to be used in place of two, reducing the cost and weight.
The RT Series of hinges provides a compact and elegant solution to hold mechanical components reliably at any position. It is widely used in consumer electronics, mobile device and tablet stands, medical devices, and other industries where precise position control for components is necessary and critical. The RT100 is ideally suited for applications requiring between 8.0 and 20.0 lb-in of holding torque.
The RT Series utilizes ReellTorq® clip technology to deliver precise and consistent torque with a fully qualified life of 50,000 cycles, while providing the smoothest operating feel of any positioning solution on the market.
Reell Precision Manufacturing provides high-quality innovative solutions to transmit torque, control angular position and protect delicate components from excessive force. Combining the world's most precisely controlled torque technology with the industry's most experienced engineering team guarantees a perfect product for customer applications. With facilities on three continents, Reell's responsive global customer service and world class manufacturing ensures exceptionally easy ordering and on-time delivery.
Call us today to see this innovative component in action.  Let Blair Engineering Southeast engineers help you enhance your design.