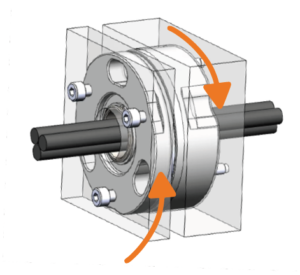 HOLLOW-AXIS FRICTION HINGE FROM REELL
Reell's NEW HTH60 hollow-axis friction hinge 
This high torque solution with a hollow center allows for internal wire and tubing to pass through the center of rotation creating clean, streamlined designs. This high torque solution is ideal for rotary joints, articulating arms, and monitor or device mounts.
The HTH60 design features 360° rotation that can mount flat on one side.
Features
Keying feature
Zinc body
Mounting – 2 x M3 flat point set screws
Wire pass through of 18mm ID
Surface or pocket mounted
Complete 360° rotation
Check out the wide variety of components from REELL. Our experienced Sales Engineers at Blair Engineering Southeast can enhance your design with Reell's hinges, torque inserts, wire wrap clutches and precision springs.
Contact Blair Engineering Southeast today for more information.