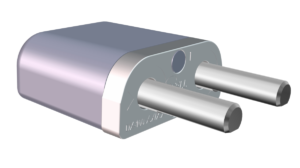 REELL'S NEW MULTI-AXIS HINGE
The DX100 Dual axis design is ideal for airline tray table and automotive work surface applications
The DX100 features a unique dual-axis design that allows for full fold over performance in panels as thin as 8mm – thinner than traditional bifold or articulating hinges. This enables tables and panels to fold and stow in narrower spaces allowing for smaller designs. It is ideal for airline and vehicle meal trays or fold-away work surfaces in applications such as medical carts and equipment.
The DX100 features Reell's ReellTorq™ technology that provides long life, premium feel motion that holds solidly in any position along a full 180° of rotation without rattle or position creep.
The DX100 is available in an equal torque profile with either 0.5 N-m, 1.0 N-m, or 1.5 N-m around both axes and a mixed torque profile with 0.5 N-m around one axis and 1.5 N-m around the other, which allows for sequencing in motion as the panel folds. The lower torque axis will rotate first, followed by the second axis after a stop is reached on the first axis.
Features
Hinge Performance

Life of 50,000 cycles
provides ful fold-over capability in panels as thin as 8mm
minimal freeplay

Available Torques

Equal Torque: 0.5, 1.0, 1.5 N-m
Mixed Torque: 0.5/1.5, 1.5/0.5 N-m

Mounting – 2 x M3 flat point set screws
Finish – Plated Zinc and Stainless Steel
Part Weight – 14 g
Environment – Ambient temperature range 0° – 60°C
Check out the wide variety of components from REELL. Our experienced Sales Engineers at Blair Engineering Southeast can enhance your design with Reell's hinges, torque inserts, wire wrap clutches and precision springs.
Contact Blair Engineering Southeast today for more information.