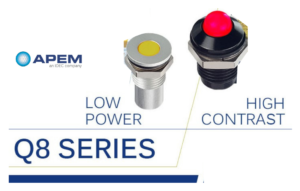 Q8 HIGH CONTRAST INDICATORS
APEM has launched two new options for the high running Q8 Series indicators that are both aesthetically pleasing and suitable for harsh environments.  High contrast and low power versions.
The Q8 High contrast LED INDICATORS are designed for applications when a sharp focus is needed. With an unmistakable on/off status, the light improves viewers certainty in safety critical applications.
The new Q8 version has a clear and precise distinction between the on and off colors giving no misunderstanding of the status making them clearly viewable also in daylight. An unmistakable status reading gives certainty in safety critical applications. Furthermore, an infused strong all-around illumination gives it a wide viewing angle which is perfect for long distance viewing.
Q8 HIGH CONTRAST INDICATOR is the ideal components for:
• Telecom base stations and masts
• EV charging stations
• Belly boxes
THE Q8 SERIES HIGH CONTRAST VERSION has options for personalization:
• A selections of LED colors
• Adaptability for custom modification, including choice of connectors
• Varying Wire gauge
FEATURES:
• Long term durability with hard anodized natural or black finish
• Unmistakable distinction between the on and off status
• Aesthetic look with flush or prominent bezels
• Compact behind the panel
• Easy connectivity
• Clear distinction between on and off
• Daylight viewable
• Wide-viewing angle
• Status readable from long distance
• Suitable for harsh environments
Contact your Sales Engineer at Blair Engineering Southeast for more information.