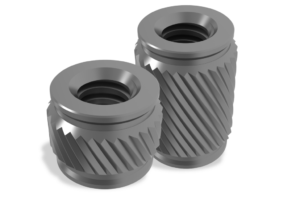 PEM'S NEW CASTSERT™ THREADED INSERTS
CASTSERT™ Press-In Inserts…NEW from PENN ENGINEERING
The long awaited press-in inserts from PEM just launched. PEM® 300 Series Stainless Steel CASTSERT™ inserts provide strong, durable metal threads in zinc, extruded aluminum, and die-cast magnesium and aluminum ranging in hardness HRB 50 to 80.
The overall, simple press-in, installation process for these inserts uses a flat punch and anvil to install all sizes and lengths, approximately 80% faster than other methods.
FEATURES
Depth of knurl allows engagement with as-cast draft angle holes, or milled holes.
Process cost savings vs. coil inserts or thread tapping.
Pull-out performance varies based on panel material, length of engagement (thread size), and draft angle.
Installed by simply pressing the inserts into drilled or as-cast holes. Installation is accomplished using any standard press at any time during the production process.
Symmetric, thru-hole design for ease of manufacturability, installation without need for orienting.
Auto-feed capability Left-handed, helical knurl for  ease of installation, pullout and torque-out resistance, and
ensuring insert stability when removing stuck/ damaged male hardware.
Lowered pilot diameter allows for proper seating of insert and undercut to provide additional pull-out  performance. Lead in chamfer on knurl body to self  center part during install.
GENERAL SPECIFICATIONS
Available in thread sizes #2-56 to 5/16-18 / M3 to M10 in two lengths per thread size.
Check out the wide variety of components from PEM. Our experienced Sales Engineers at Blair Engineering Southeast can enhance your design with illuminated key pad, switches and pushbuttons.
Contact Blair Engineering Southeast today for more information.