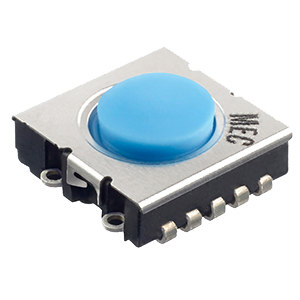 NEW DUALMEC, SMALL 2-POLE SMD FROM APEM
INCREASE SAFETY OF YOUR HANDHELD- OR LIMITED SPACE DEVICE WITH THE SMALLEST 2-POLE SMD COMPONENT ON THE MARKET WITH DUALMEC FROM APEM.
The Dualmec switch has a user friendly comfort touch. It has a selection of caps that can be customized by color and print. It is also possible to get fully customized keycaps.
The new DUALMEC PCB switch:
• Space-saving size
• Added security with double confirmation
• High performing tactile switch
• Many design options with standard cap selection
CORE TARGETS DUALMEC IS EXCELLENT FOR:
• Material handling vehicles
• Medical equipment
• Mining equipment
• Military communication equipment
This new solution from APEM is user friendly that is safe to use. It has a great tactile feel with added security built in. All the important features rolled up into one great component.
Contact our Blair Engineering Southeast Sales Engineers today for more information.