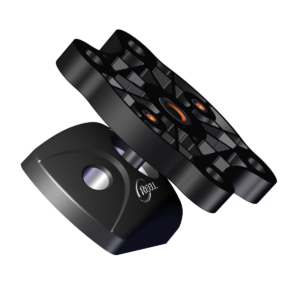 NEW! Reell SPHERICAL JOINT HINGE WITH ADJUSTABLE MOUNTING PLATE
Introducing The Reell SJ300 Spherical Joint Hinge With Industry Standard ¼-20 Thread And AMPS Mounting Plate. The newest innovation from Reell . . . a multi-axis position control product that can be adjusted with one hand. The SJ300 Spherical Joint Hinge with AMPS Mounting Plate has industry standard ¼-20 threaded shaft end for easy installation.
The SJ300 utilizes Reell's patented SphericalTorq™ clip technology to enable easy adjustment in multiple directions and provide constant holding force at any angled position. It outmaneuvers conventional position hinges with the capability to swivel from side to side and back and forth with a 60º range of motion, and rotate with a full 360º range of motion.  Its durable glass-filled molded nylon housing and black finish present an attractive and stylish appearance.
The addition of the industry standard ¼-20 threaded shaft end and AMPS mounting plate enable the SJ300 to be easily designed in to both new and existing small electronics designs.
Global Product Line Manager Jim Brown is excited about the addition of industry standard accessories and threads for the SJ300. "The SJ300 is a key part of our portfolio. This latest addition comes in direct response to customers seeing the advantages our multi-axis position control product brings to small electronic devices to improve viewing and enable easy, one hand adjustment."
Call us today to see this innovative component in action.  Let Blair Engineering Southeast engineers help you enhance your design.