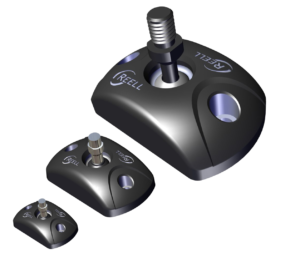 REELL'S NEW SJ500 SYPHERICAL JOINT
REELL'S MOST POWERFUL SPHERICAL JOINT IS IDEAL FOR LARGER POSITIONING APPLICATIONS
The SJ500 is Reell's largest spherical joint hinge.  It is available with torques from 4.0 – 8.0 N-m, making it ideal for positioning today's larger monitors and display devices, as well as industrial applications and many other components requiring precise multi-dimension position control in the industrial, medical, office, and consumer electronics marketplace..
All Reell SJ Series hinges have the capability to swivel from side to side with a 60º range of motion, tilt back and forth with a 60º range of motion, and rotate with a full 360º range of motion. They utilize Reell's patented SphericalTorq™ clip technology to perform consistently for a life of 50,000 adjustments.  All SJ models have a durable glass-filled molded nylon housing and black finish, presenting an attractive and stylish appearance, while the all-metal shaft, ball, and torque elements are manufactured from nitrided and hardened steel for durable performance.
FEATURES:
Available in 3 sizes, with torques from 0.2 to 8.0 N-m, the SJ Series spherical joint hinges are ideal for applications such as tablet stands and mobile device dock positioning, medical lighting, camera stands, automotive mirrors, and office furniture where precision position control is critical.
The SJ300 ball joint hinge is available with an industry standard 1/4-20 threaded shaft end and AMPS standard mounting plate that allow them to be easily incorporated in to electronics products.
The SJ Series also includes SJ200 ball joint hinges, featuring M4 threaded shaft ends, and SJ500 ball joint hinges, featuring M10 threaded shaft ends.
Life of 50,000 total adjustments
60° up/down and left/right range of motion
360° rotational range of motion
Minimal freeplay
No matter what model, SJ Series spherical hinges offer superior position control.
Check out the wide variety of components from REELL. Our experienced Sales Engineers at Blair Engineering Southeast can enhance your design with hinges, torque inserts wrap clutches and precision springs.
Contact Blair Engineering Southeast today for more information.