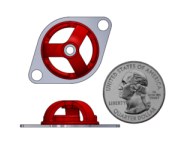 GREENE RUBBER: NEW LINE OF LIGHTWEIGHT HIGH-DEFLECTION MOUNTS!
Introducing Greene Rubber's NEW line of Lightweight High-Deflection Mounts specifically designed for the UAV/UAS Market. Some of the smallest & most lightweight isolators available without compromising performance. If you are trying to reduce component weight, isolate IMU's and increase camera stability click on the link below for available sizes and for more specific details. In addition, if you are experiencing heat issues with MPU's, ESC's and Camera Sensors we have a variety of thermally conductive and insulative materials to offer.

For more information or application assistance please contact marketing@greenerubber.com.
High Deflection UAV Mounts
UAV Thermal Management