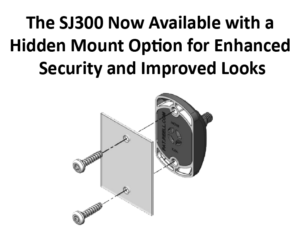 HIDDEN MOUNT OPTION ON REELL'S SJ300 BALL-JOINT
REELL's SJ300 Ball Joint Hinge now has a Hidden Mounting option.
Reell Precision Manufacturing, a world leader in small package motion control, has enhanced their popular SJ300 Ball Joint Hinge to include a Hidden Mounting option. The new mounting option provides a smooth external appearance. It also increases security by removing access to the mounting hardware.
Removing the external appearance of the mounting hardware prevents tampering, improves cleanability, and creates a smooth enclosed housing for applications. The hidden mount shields the hinge so it is not visible to the end user.
The SJ300, like all Reell friction hinge and torque insert products, utilizes ReellTorq® clip technology to deliver precise and consistent torque with a fully qualified life of 50,000 total adjustments. It this while providing the smoothest operating feel of any positioning solution on the market.
The SJ300 ball joint hinge is available with an industry standard 1/4-20 threaded shaft end and AMPS standard mounting plate. This allows them to be easily incorporated in to electronics products.
Our experienced Sales Engineers at Blair Engineering Southeast will show you how these hidden mount hinges can fit into your specialized design.
Contact Blair Engineering Southeast today for more information.