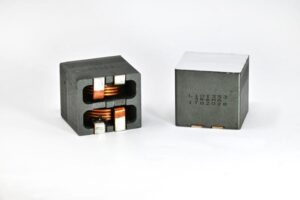 ANOTHER NEW PRODUCT FROM ITG ELECTRONICS – FLAT WIRE INDUCTORS
Flat Wire Inductors that can pass through greater amounts of energy.
ITG Electronics has just released a new Inductor with a greater capacity. It is a Flat wire based Non-Coupling Dual Inductor.
ITG ELECTRONICS L101353A Series of ferrite-based flat wire inductors range from 1.0-10.0uH. Devices are designed for power conversion applications with current ratings from 14-170Amp at 25C and 20% inductance drop. Component has a low dc resistance (DCR) of 1.06mOhm, and IRMS up to 50Amp. The box-style surface mount device (SMD) provides lower core loss and high current output – suitable for settings involving high density and limited board space. Device delivers low profile at a maximum height of 24mm, and a footprint of 24.5 x 26mm.
Technical Features of L101353A Series :
• Ferrite based SMD Non-coupling dual inductor with lower core loss.
• Inductance Range: 1.0uH to 10.0uH, Custom values are welcomed.
• High current output chokes, up to 170.0 Amp with approx. 20% roll off.
• Low Profile 24.00 mm Max. height .
• Foot Print 26.00 x 24.50 mm .
• Perfect for high density designs with limited board space.
• Operating frequency up to 5.0 MHz application.
• Operating Temperature Range -55 ℃ to + 130 ℃, RoHs & HF compliance .
• Tray Qtys: 20pcs/Tray.
Check out the wide variety of components from ITG. Our experienced Sales Engineers at Blair Engineering Southeast can enhance your design with ITG's magnetics, EMI filters and more.
Contact Blair Engineering Southeast today for more information.