DIRAK NEW CAGE NUT FOR EASE OF USE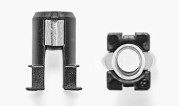 Installation without tools from the front or from behind: The new cage nut for ease of use

We develop pioneering fitting components for your applications in industrial enclosures. In doing so, every day we focus on precise constructions that meet your requirements as to design, function and material. 

Today, we look forward to introducing you a new product. We would be happy to discuss how you can integrate our innovations in your application area in person, as well.

Precisely according to our motto: pioneering, precise, personal.

The new cage nuts are very easy to install as well as to dismantle.


Can be installed in the cutout without tools from the front as well as from behind

Cage made of PA is flexible and thus easy to install

Moveable nut: easy to twist the screw without tilting

No over-twisting during dismantling by the bolt to be removed in the metal sheet 
Direct Links:
Video: DIRAK Cage Nut
http://www.dirak.com/news/p418386l4/Tool-less_installation_cage_nut_.html