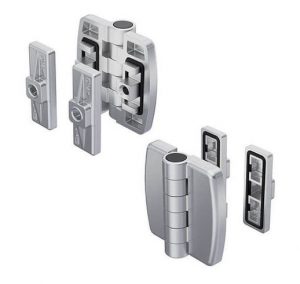 DIRAK'S HINGE WITH FASTENING BRACKET NOW IN STAINLESS STEEL
Last year Dirak launched the DIRAK Hinge Pr01 with Fastening Bracket in zinc die.  Now they introduced the same bracket in stainless steel.
With an opening angle of 180°, Dirak's 3 hinge sizes provides free access to the interior.
The many advantages of this product include:
The stepped mounting surface on the back of the hinge halves ensure precise fit and stability.
The mounting bracket allows easy and convenient fixing of the hinge half with just one screw.
Thanks to the uniform sealing after tightening the bracket in place, IP ratings of 65/67 according to DIN EN 60529 can be achieved.
Vertical and horizontal adjustment of the hinge is achieved by the recesses on the fastening bracket and utilizing a slightly oversized cutout.
Installation is made easier by a protruding thread attachment that fits into the top and bottom of the fastening bracket, thus acting as an anti-rotation device.
A two-part POM pin allows for tool-less and separate assembly of the hinge halves by hand.
3 knuckles at each hinge half for increased stability.
A diverse range of application is possible thanks to the three hinge sizes available for use, 50×40, 54×50, 60×60.
The permanent/attached seal on the fastening bracket ensures a self-locking effect on the door.
The POM pin is secured against forced removal or tampering.
The hinge is suitable for outdoor use thanks to the unique design and material selection.
The beveled edges prevent dirt from accumulating.
Contact Blair Engineering Southeast to see these robust hinges in person.