DIRAK – COMPRESSION TRIGGER LATCH 90X35MM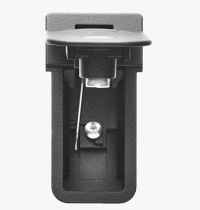 Dirak develops pioneering fitting components for your applications in industrial enclosures.
In many application areas the focus is on a fast, easy and comfortable assembly as well as reduction of installation time. For this reason, Dirak developed a compression trigger latch with flush handle plate which can be installed easily and fast from the front.
PRACTICAL, COMFORTABLE AND FLEXIBLE TO USE:
Compression trigger latch with pre-assembled fasteingn bracket for installation from the outside
Assembly of the fastening bracket from the inside is not neccessary
Flush handle plate with release button
Easy and flexible adjustment of the H-dimension from 31 to 43 mm
Water- and dust-tight according to IP66 DIN EN 60529
With compression
In locked position it is not possible to diassemble the latch
Keyed alike DIRAK 1333
Contact us for more information!