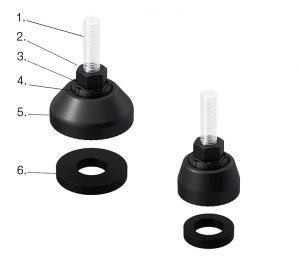 DIRAK'S NEW LEVELING FOOT
The modular design makes it possible to determine the length of the threading yourself, by using a standard hex bolt (DIN 933 / ISO 4017). This advanced innovation promotes not only improved product storage capacity, but also a wide range of variants – with just one product.
Design features:
This design uses a larger than normal ball that increases the area of contact between the components of the Leveling Foot, and thus the force that can be absorbed by the product.
The force is directed downward, not to the sides, thanks to a unique design of the base plate—preventing the plate from breaking due to horizonal load.
The base plate of the DIRAK Leveling Foot can be designed smaller relative to the load. This space-saving method makes it possible to mount the Leveling Foot closer to the edge of products, which is especially advantageous for housings that stand next to each other.
The PA plate provides a firm, stable base. Customers can choose between two sizes to better fit their applications.
To prevent the Leveling Foot from slipping, we recommend the optional anti-slip insert. It also absorbs vibrations and protects the floor against abrasion.
Contact Blair Engineering Southeast to see this innovative component.  Simplify your line of leveling products with this one simple product.  Call us today.