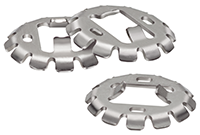 MICROPEM CLAMPDISK FASTENER
MicroPEM® ClampDisk® fastener created by Penn Engineering.  The ClampDisk® is a removable fastener intended to replace screws, adhesive, rivets, and other small fasteners.
The microPEM® ClampDisk® fastener presses straight onto a 1 mm pin to replace threads, adhesive, rivets and other small fasteners. The upward flanges of the disk grip onto the pin and prevent push-off while the downward flanges flex and generate clamp load. Ultra-small fasteners are ideal for compact electronics applications.
Clamp load generation
Simple installation
Removability
Works with multiple panels of any material
Limited installation stress to assemble
Tamper resistant
Click here to contact our Blair Engineering Southeast Sales Engineers today for more information.