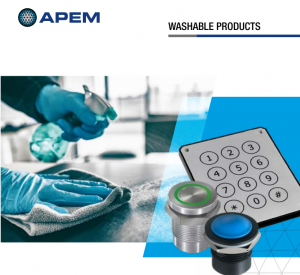 APEM'S NEW — WASHABLE PRODUCTS
THE NEW LINE OF SEALED, WASHABLE APEM'S COMPONENTS can be wiped down with disinfectants to help stop the spread of bacteria and germs.  These sealed components do not allow liquid to compromise the integrity of their operation.
• Switch products
• Joysticks
• LED Indicators and Control Panels
APEM's washable products are available in several types of components plus specially engineer designed products specifically for your project.
Contact us to help you develop your unique components with APEM.