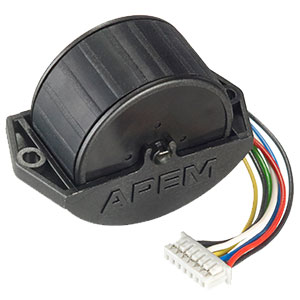 HR SERIES INFINITE WHEEL FUNCTION ON – NEW FROM APEM
NEW INFINITE WHEEL function for the HR Series.  Designed for comfort and precision at your fingertips.
Infinite wheels Hall effect technology provides a long lifecycle to a durable product.
Dedicated grip integration for joysticks front faceplate.
Field proven HR series with IP68 sealing, backlighting and easy integration.
New quadrature output terminal available.
The HR series infinite wheel function from APEM is a new way to integrate the encoding function in handles and control panels. It is designed to maximize ergonomics and improve precision for end users when browsing through menus or adjusting the settings of the machine.
Building on the experience gained with the HR series, this new version meets the needs for greater precision and comfort when driving special vehicles in difficult environments (dust, humidity, cold, etc.).
Integrated on a joystick or control panel, the infinite wheel function replaces the encoder with a quadrature output, making it easier to browse menus or use tools with precision. The end user gains a control tool that is reliable, ergonomic and easy to handle: a service life of over one million cycles, a flush-fitting design with infinite scrolling (24 detents per rotation), and a soft-touch elastomer membrane.
The wheel is backlit to maintain maximum visibility even when working in dusty or poorly lit environments.
FEATURES:
Hall effect technology
Customization: backlighting, color, outputs
IP68