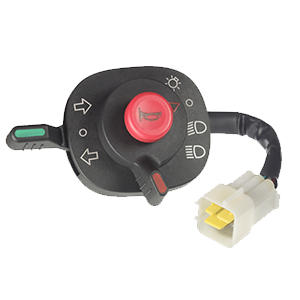 APEM'S NEW MC2 FOR DRIVING FUNCTIONALITY FOR SMALL VEHICLES
APEM'S new MC2 Series Plug & Play Solution
This plug & play solution is compact, easy-to-install and easy-to-use. MC2 was designed to make your life easier, so don't hesitate to ask for special customizations to fit your specific need.
APEM's new MC2 series is a simple and cost-effective way to provide basic driving functionalities to a small vehicle, like a tractor, a lawn mower or a quad bike.
APPLICATIONS
The robust and sealed construction of this control panel ensures reliable use even in harsh environments.
Small tractors
Lawn and garden equipment
Commercial vehicles
Recreational vehicles
MAIN FEATURES
Several switching functions in one solution: rotary 3-4 positions, lever 3 positions, 1 momentary pushbutton
Provides the necessary functionality to drive on the road
Cost-effective plug and play solution
Some customization available
Easy to use!
A FEW TECHNICAL FEATURES
4 fixed positions with the rotary control
3 fixed positions with the lever control
1 momentary pushbutton in the center
Check out the wide variety of components from APEM. Our experienced Sales Engineers  at Blair Engineering Southeast can enhance your design with illuminated key pad, switches and pushbuttons.
Contact Blair Engineering Southeast today for more information.