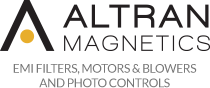 Altran Magnetics, Inc. (AMI) is a Premier Global Supplier of specialized electro-mechanical product solutions.
Altran Magnetics provides offshore manufacturing expertise to reduce material acquisition cost. AMI's North American warehousing facilities ensure 100% on-time delivery. Altran offers a compelling international solution with dedicated teams located in the United States and China.
Altran Magnetics offers over 3,000 standard products. Their EMI/RFI Filters, Photo Controls, DC Contactors, C-Frame/Shaded pole Motors and Blowers are used in a variety of applications including medical, lighting, appliance, industrial, military, automotive and HVAC industries. They have engineering expertise in modified standard and custom products for application specific solutions.
Contact our Blair Engineering Southeast Sales Engineers today for more information.
Click here for Altran Magnetics products