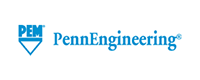 PennEngineering®
Product line description
PEM® brand self-clinching, broaching, flaring and surface mount fasteners providing permanent threads in sheet metal, PC Boards and other ductile and non-ductile materials.
Penn Engineering & Manufacturing Corp., founded in 1942 in Doylestown, Pennsylvania, is the parent of PennEngineering®. PennEngineering® provides fastener, fastener installation, and product solutions worldwide for diverse industries. The Company manufactures at the corporate headquarters in Danboro, Pennsylvania as well as in several other locations worldwide. PEM® brand fasteners utilize self-clinching, broaching, flaring, surface mount, or weld technology to provide strong, reusable, and permanent threads and mounting points in thin sheetmetal or P.C. board materials.
PennEngineering Part Search/Catalog
Contact us to learn more.