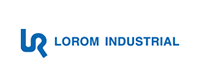 Lorom
Product line description
Cable assemblies, wire harnesses and electronic sub-assemblies.
The value of any supplier lies in the quality of the products and services that it provides. Since our establishment in 1988, Lorom Industrial Co., Ltd. has experienced an outstanding rate of sales growth as we have become a preferred supplier to a number of Fortune 100 companies. We attribute our success to an intense and continuous focus on providing our customers with the highest quality products and services at the most competitive prices in the marketplace. This philosophy serves as the foundation of our Mission to become a globally recognized and preferred supplier of the highest quality electronic assemblies available within the industries that we serve.
Lorom was founded by a small group of engineers with a focus on research and development. As the company has grown, we have been able to successfully expand both the depth and scope of our capabilities through the addition of top engineers and management professionals with expertise in the fields of electronics, printed circuit board assembly, turnkey product manufacturing, cable assembly technology, and industrial design.
Contact us to learn more.