Greene Rubber Company
Product line description
Shock and Vibration Isolators; Sound Dampening.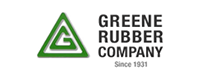 Greene Rubber Co., in business since 1931, has extensive capabilities in rubber processing including rubber molding, extruding, vulcanizing, grinding, slitting, laminating, and die cutting using the latest engineering and manufacturing processes. As an ISO-9001 certified supplier, Greene's commitment to continuous improvement is constant year after year. Whatever your requirements, Greene Rubber gives you the promise of an experienced team approach to solving your critical application needs. With the combination of proven engineering and manufacturing expertise, Greene Rubber Company can guarantee the optimal solution to your gasketing, sealing, insulating and vibration isolation challenges on time and on budget.
Contact us to learn more.