Insul-Fab
Product line description
Custom waterjet and die cut parts, electrical and thermal insulators and thermal pads.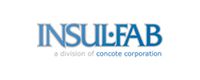 Based in North Texas for over 20 years, INSUL-FAB has become a leader in the supply of customized products to Original Equipment Manufacturers.
We provide solutions to the industries of HVAC, electronics, and automotive equipment, to name a few. With three plants and over 160,000 square feet of manufacturing space, INSUL-FAB offers a large number of fabrication solutions.
We maintain a wide variety of material inventory and possess the capacity to meet our customers' needs in a timely manner and at a fair price.
Contact us to learn more.