Electronic Design & Manufacturing (EDM)
Product line description
PCB assemblies, design services, sub-assemblies and complete box build.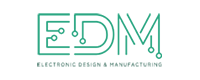 Since 1990 EDM has provided superior design and production services backed with a high level of technical support and outstanding customer service. Customers know they can count on EDM to do whatever it takes to consistently provide them with quality and service unmatched in the industry.
As an American electronic contract manufacturer, EDM is dedicated to providing superior design and production services. The company's PCB assembly consistently meets and exceeds customer's expectations for quality, price, and delivery. Because of this, EDM is more than just a PCB vendor. They are a highly skilled, flexible, and experienced electronic design and manufacturing team. EDM is committed to its customers' growth and success and prove this every day with products, support, and services that are unmatched in the industry.
EDM's business was built on the commitment to provide high-quality products to meet customers' needs. As a result, their Quality Management System integrates every process. This begins with the initial quote on your job and continues to final delivery. Teams of in-house auditors, representing all departments, regularly review the company's processes in order to evaluate performance, allowing opportunities for continuous improvement.
Contact us to learn more.