Certified Power PTD
Product line description
Driveshafts and power train components.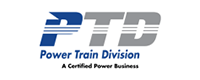 Certified Power's Power Train Division (PTD) specializes in the design and manufacture of drivelines and related components for industries such as construction, agriculture, mining and forestry to name a few.
They are a power train component supplier to many OEM's, large and small – primarily in Off-Highway applications. PTD also supplies the needs of customers in the marine market, irrigation market and other industrial markets. Their core business is rotating steel components or assemblies, located between the vehicle transmission and the wheels or tracks.
Contact us to learn more.