Douglas Corporation
Product line description
Nameplates, logos, graphic overlays and membrane switches.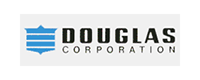 At Douglas, we believe in the power of image. Whether it's a nameplate or the graphics on a membrane switch, how you present yourself tells your customer exactly who you are. It's our job to work with that image. Enhance it. Present it in a unique way. Create a look that's functional, memorable and above all pleasing to the eye. Our purpose is to keep you at the forefront of your industry with our high quality products.
Contact us to learn more.